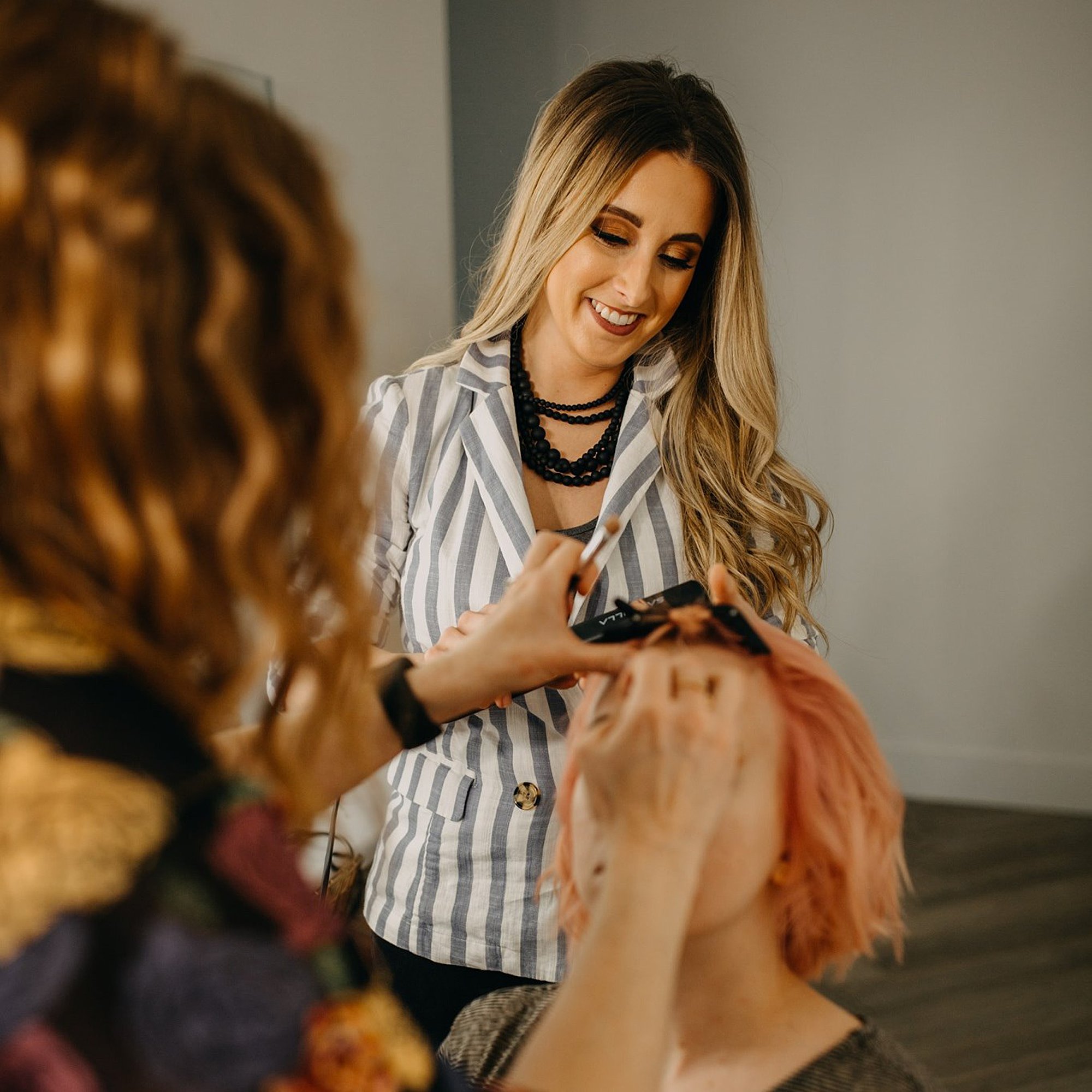 Hello! My name is Jillian Toppen, bridal beauty specialist and Co-Owner of Gloss Makeup and Hair.
Born in Ohio and raised in Minnesota, I come from a blended family of 7! I attended high school, college and cosmetology school in Minnesota. I got married in 2011 and moved to North Carolina where I continued working in full service salons cutting and coloring hair. In 2013, when we started a family, I switched to full time freelance hair and makeup. I quickly found my passion for all things special events— and Gloss was born!
My family moved to SW Missouri in the summer of 2017 and I relaunched Gloss that August. I quickly discovered how in demand my services were as an experienced on location hair stylist and makeup artist, and that as a solo artist there were more interested brides than I had hands for! With God's blessing I was able to build an amazing team of artists to join me. 
For 6 years we worked together as a large team serving thousands of amazing clients in the SWMO area— we loved every second! 
In 2020 my family was called to homeschool our two girls and after years of prayer we decided to downsize and simplify our growing business!
We are now relaunching in 2024 as a partnership between my two right hand ladies— Ashley and Katrina— and myself! We are so excited for this next chapter where we can share in the success of this amazing business and work together to make the Gloss experience even more amazing for every client! 
With over 15 years of professional hair and makeup experience you're in great hands! If your style is elegant, classic and detailed— I'm your girl! I love a full glam look and voluminous hair but am just as comfortable with a sleek bun or a boho braid. My personal favorite and most used beauty brands are Natasha Denona, Chanel, MAC, Oribe, Redken, and Big Sexy Hair. I am a luxury beauty girl through and through! 
I am excited for the opportunity to work with you on your special day!
XO, Jillian
Professionally Trained with:
The Crowning Touch
The Image Group
Ryder Makeup Labs
Premiere School of Modeling
Regency Beauty Institute 
Redken
Brazilian Blowout
Heather Dear Artistry
Kevin James Bennett
Bridal Beauty Masterclass
MG Hair & Makeup
Heather Chapman
Temptu Airbrush Masterclass
Danessa Myricks
Personal Quick Facts:
Homeschool mom of two girls
Pilot's wife
Dog mom to three pups
Hobbies: learning, decorating, painting, jewelry making, antiquing, reading, Bible study, exercise and travel!
Favorite food: Indian
Favorite color: green
Favorite music: worship
Double Majored in Broadcast Journalism and International Relations with a French minor
I studied French for 14 years and dream of living there one day
I competed in pageants from ages 16-22 and loved every second of it
I had a small beach wedding in Florida— it was gorgeous and simple